Whether you have just moved into your first home, or you are debating renovating your current kitchen for the first time, it's always good to know care tips and extra information for your first kitchen.
How Can I Prepare For My First Kitchen?
However you look at it, independent living can be scary for the first time. You're going to have to cook and clean, as well as plenty of other things, to ensure that you live a happy and healthy independent life. One thing that shocks people the most when moving into their first property is the kitchen. They're often unprepared and are lacking kitchen equipment or have very little culinary experience, although this is not a problem as over time you will pick it all up.
Or if you're thinking of making your first home improvement by renovating your kitchen, this can also seem daunting. It's essential that you take great care to keep your kitchen clean, tidy and well looked after. It needs to be hygienic and a safe place for you to prepare food for yourself, as well as friends and family. So if you're in need of some care and preparation tips for your first kitchen, then keep reading!
Make Sure You're Equipped
It may seem silly, but one of the most common thing that people forget when they get their first kitchen is the appliances! Sometimes washing machines and dishwashers are already installed, but how are you going to cook without any kitchen utensils? Or how can you make a cup of tea without a kettle? Although these are small things, they're all vital things that should be found in every kitchen. So if you don't already have these things, we have listed down priority items and the best ones you can get.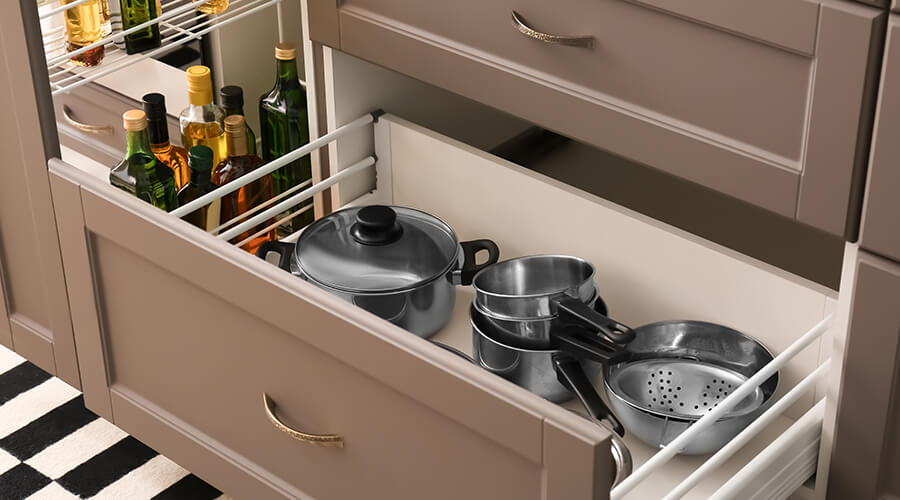 Kettle
Kettles are crucial for tea and coffee lovers! If you can't start your day without a warm cup of coffee, then not having a kettle is going to be a huge issue. As well as hot drinks, kettles are needed for cooking purposes as well as cleaning when you want to soak things. Boiling water is necessary to help kill off bacteria that may be left lingering in dirty pans. It is also recommended that you clean your sink with boiling water and cleaning products.
Your sink over time can collect lots of grime and dirt from regular use, so it's vital that you regularly clean it for hygiene purposes. As well as the sink itself, boiling water can be used to flush out drains and prevent them from getting clogged. We recommend flushing out your drains with boiling hot water and a drain cleaning chemical. Also, take into consideration installing a kettle tap, this is separate from your regular tap so they cannot be used accidentally, and have a lock feature that prevents children from using it. Make a cup of tea straight from your tap with consistent filtered boiling water. We are even offering a free kettle tap with our latest January sale! Find out more here.
A Good Set Of Pans
You may not think that you need high-quality cooking utensils when moving into your first kitchen. But if you purchase low-quality cheap ones, they're likely to break and become ruined if you're using them to cook every day, and then, in the long run, you end up spending more on replacing them. Our favourite brand of pans that are long-lasting and durable are Tefal. Not only do they have these fantastic qualities, but you can purchase induction sets for those who are getting their first kitchen, or even just the essential set that includes the basic things you will need.
Having pans are essential, they allow you to boil, fry, simmer and grill which you couldn't do without them. Although it might seem like a pain paying for pots and pans, but they are an essential and will completely transform the way you cook food, which is why we recommend them to all of our customers.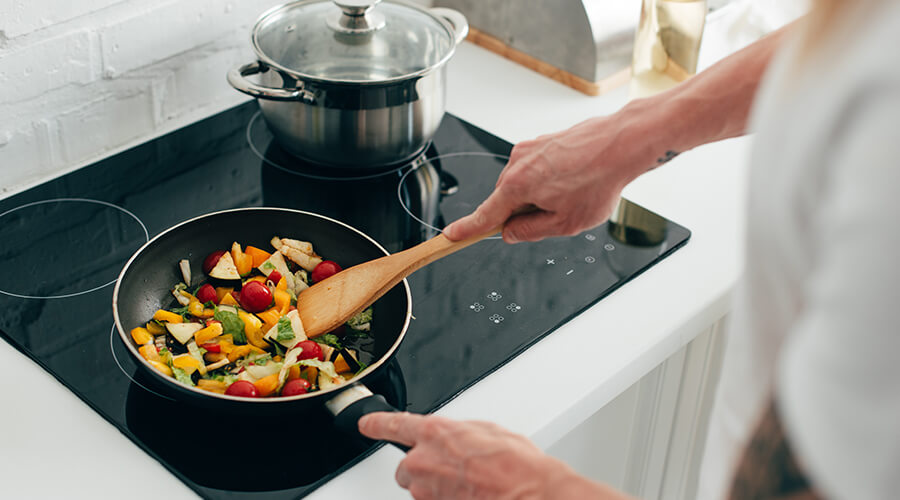 Basic Kitchen Utensils
Aside from pans, you need the utensils that go with them in order to be able to cook delicious food without hurting yourself. Pans get very hot; cooking oils can spit and be scarring if it comes into contact with skin. To avoid this, it is good to have spatulas, tongs, wooden spoons, ladles and all of the other important utensils to cook food safely and correctly.
These make preparing food easier and can cut the preparation time that it would take you to cook without them. You can purchase a full basic utensil set here. As well as this, we would also recommend investing in a high-quality kitchen knife set. Knives are commonly used in the kitchen and when used improperly can cause harm. We recommend this Sabatier Maison stainless steel kitchen knife set for beginners.
Dishwasher
Most modern kitchens often come equipped with a pre-installed dishwasher. Although not all of them do, and once you have one you could not imagine life without it. It eradicates the need for the tiresome chore of hand washing all of your equipment. Washing up also poses a risk if you're dealing with sharp knives or kitchen utensils, as it is easy enough to cut yourself in the water.
Dishwashers are evolutionary and can be found in most homes. We always recommend to our clients installing them and would definitely say they're a necessity in your first kitchen. They are not costly to run and are time-saving, as well as this they can be hidden away, so they don't stand out and are not an eyesore. Contact one of our team members today for more information on dishwashers.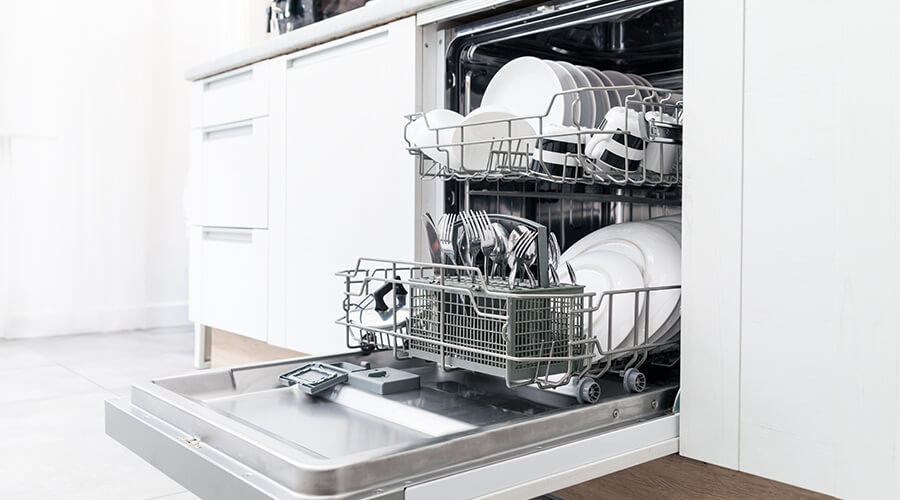 Make It Eco-friendly
If you start your first kitchen with an eco-friendly approach, then it is likely to stick. In the upcoming years, eco-friendliness has risen in popularity, and numerous charities are popping up everywhere, trying to raise awareness about saving the planet. There are a number of little simple things that you can do to make your kitchen eco-friendly and do your bit for the environment.
The first thing is to make sure that you recycle! Although recycling rates have risen in the past few years, there are still people who are throwing out perfectly useful materials. We would recommend that you have two bins in your kitchen, preferably labelled or even in different colours to help you distinguish which is which. All you have to do is put recyclable materials in one bin, and non-recyclable materials in the other.
As well as this, create a compost pile. Although it seems slightly disgusting, it is fantastic at boosting plant growth and is so good for the environment. It provides your plants with extra vitamins that are better than the ones it could pull up from the soil. It also then puts your scraps to use and stops you throwing away useful resources.
Always Make Sure You Have The Essentials
One thing to remember is to never let yourself run out of the essentials. Although it's highly unlikely if there ever was an event that resulted in you being stuck at home, you're going to have to make use of the food in your cupboards. If you can't get out of the house to the shop and you don't have the main essentials in your home, then you're going to have nothing to work with a struggle to find something to eat.
It can be a pain when you run out of something you need, and it's late at night or visiting the shops just isn't doable at that time, which is why you need the essentials so that you know that no matter how busy you are, you always have something to eat. We would say that the essentials often come under the heading of dried and frozen goods. These have an extremely long shelf life and are simple to prepare. This includes things like pasta, rice, sauces, soups, frozen meats, frozen veg and anything you can think of. Of course, we do like to promote a healthy balanced lifestyle and use fresh food, but it is always a good idea to have things like this in stock just in case.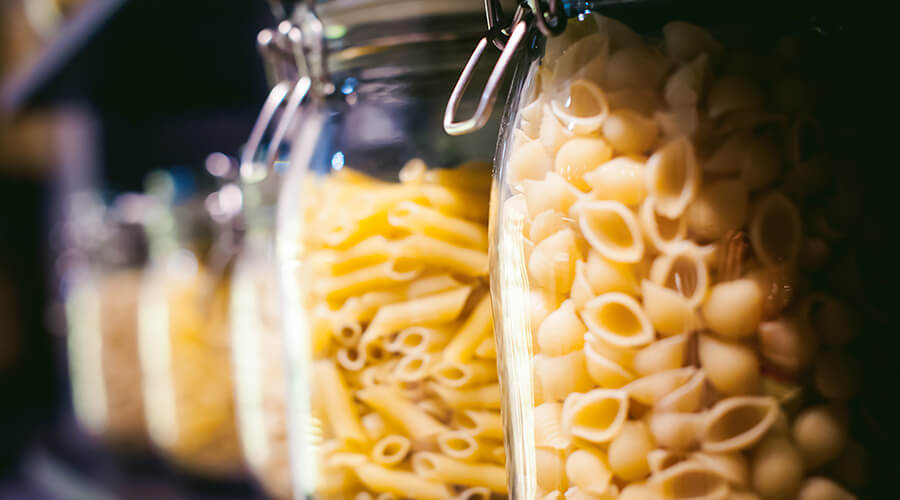 Optimise Your Storage
It's crucial that you have enough storage space in your kitchen for all of your utensils, bowls, plates, cups as well as your food. If you run out of storage space, then your kitchen is just going to look messy and cluttered. Luckily our kitchen fitters Leighton Buzzard are specialists in smart kitchen storage solutions, and can help you pick storage options that are best suited to the individual design and layout of your kitchen.
You can increase storage by storing things away in cupboards, although the best way to increase all of the space you have to utilise, is by hanging things up.
Add A Kitchen Island
If you're thinking of renovating your kitchen for the first time, one way to make it stand out and to create modern kitchens Milton Keynes is to add a kitchen island. Kitchen islands can make your kitchen appear larger and more spacious, as well as this it's a great way of breaking up your kitchen.
If you want more worktop space, then a popular way of creating this is by including your sink in your kitchen island. This means that if you need to wash anything up or need the sink for whatever reason, it's separate from the rest of your kitchen and allows you to use the sink without getting in the way. As well as this, they are another space-saving solution, and can have cabinets installed for many different purposes. It doesn't stop there either; if you want to make your kitchen unique and give yourself more centralised kitchen features, you can even have the main stove in your kitchen island.
Transfer everything that was cramped together with your kitchen cabinets to an open free space by fitting your kitchen island with hobs and other cooking amenities. We can supply this with our range of kitchens Aylesbury.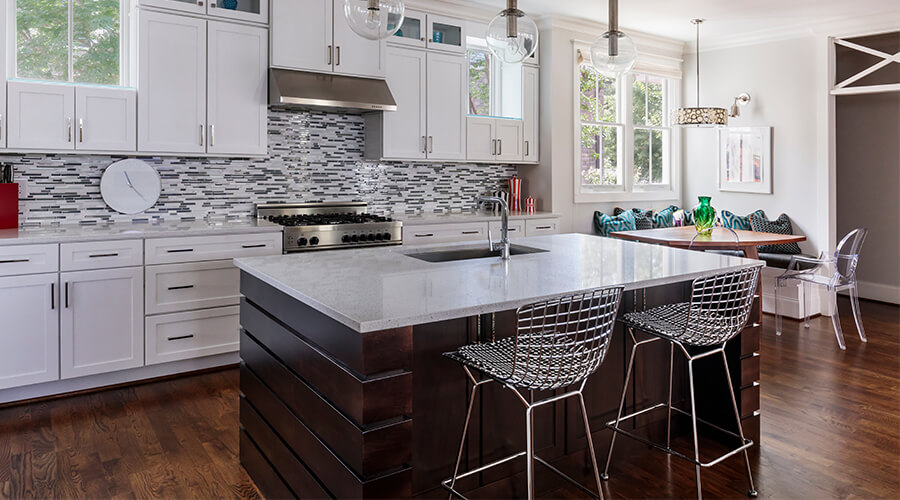 Prepare For Your First Kitchen
Now you know these top tips it's time to move into your new home, or begin the renovation process of your first properly renovated kitchen. Be sure to keep it clean and make sure that it's a suitable place to prepare food, and also be sure that it is child-friendly!
We hope that this article was helpful, if it was then why not share on social media.