The kitchen is commonly seen as the heart of the home, where families are brought together by good food and even better company. It is one of the most social rooms in a property, which means that homeowners are keen to keep their space looking its best. Due to this, we consistently see new, innovative kitchen styles unfold, promising to wow every guest at the dinner party.
While nowadays, the modern kitchen adopts a contemporary feel with minimalist aesthetics and a 'clean' look, this most definitely was not always the case. Kitchens through the decades have continued to evolve, incorporating the latest trends, colour themes and technology – often even more so than any other room in the home. To give you a whirlwind time travel through the years, we are going to delve deeper into trending kitchen designs from the 1920s, all the way to today.
An Insight Into Trending Kitchens Through The Decades
Just like fashion, kitchen trends continue to revolutionise. In the modern-day, every component of the home is greatly revolved around the latest technology. Devices that make life just that little easier remain a sought-after concept. It is rare to find a home filled with traditional cooking methods, handcrafting dishes using a good old recipe book, as opposed to Googling instructions on a smartphone. While we have all become accustomed to the digital age, and there is nothing wrong with embracing technology, there is always a sense of nostalgia looking back at the homes of ancestors. So, without further delay, let's browse through the ever-changing world of kitchen design.
The 1920s
Cast your mind back to almost 100 years ago to an era known as the 'roaring 20s' – named 'roaring' thanks to the newly adopted culture of relaxed rules and an exuberant way of life. While of course, we were nowhere near as advanced as the modern-day, properties were now connected to a local water system, and gas ranges were available. It meant that gone were the days of spending hours slaving over hot wood fires.
In terms of design, fixtures were most commonly freestanding with a similar appearance to bedroom furniture. Sinks, although mounted to the wall, featured four legs with no storage hidden underneath. In the 1920s, it was considered essential for sinks to be open underneath as opposed to filled with cabinets as we have nowadays. In keeping the space under sinks clear, there would be an improved airflow; therefore, the risk of built-up moisture would be kept at a minimum.
Kitchen cabinets, again were freestanding, and seen as an 'all in one' solution to creating a functional space. Cabinets featured not only shelves and drawers but also a countertop for preparing meals. It wasn't until 1927 that the home refrigerator was introduced, which means that cabinets were vital to store ingredients.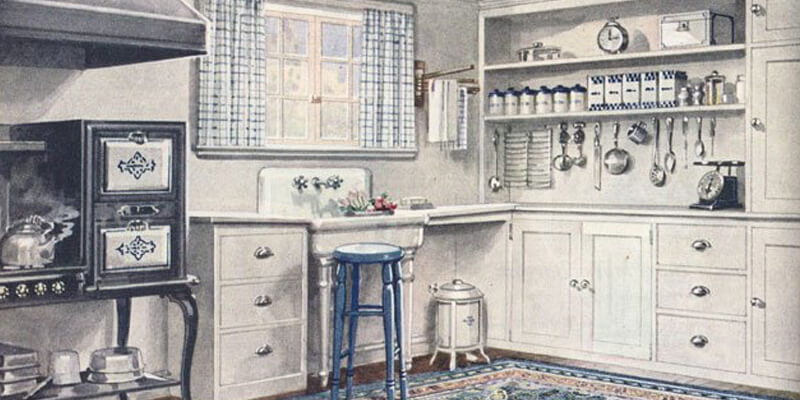 Photo Credit: Antique Home Style
The 1930s
The 1930s kitchen was all about efficiency accompanied by popular retro designs. Furniture had started to become considerably more streamlined to take a compact approach, allowing floor space to be maximised. Gas stoves, in particular, were slim and tall, ideal for accommodating a smaller kitchen.
The era is known for introducing the renowned checkerboard-style linoleum flooring. Again, due to the nature of linoleum, it was super easy to clean, sticking with the efficiency approach. The flooring was kept as the focal point of the space with all fixtures commonly available in neutral colours such as off-white and pastel shades. French windows also became a popular addition to the 1930s kitchen, allowing natural lighting to be enhanced.
If you love the idea of a 1930s style kitchen, then take a look at Southern Living for a guide on how to design your own!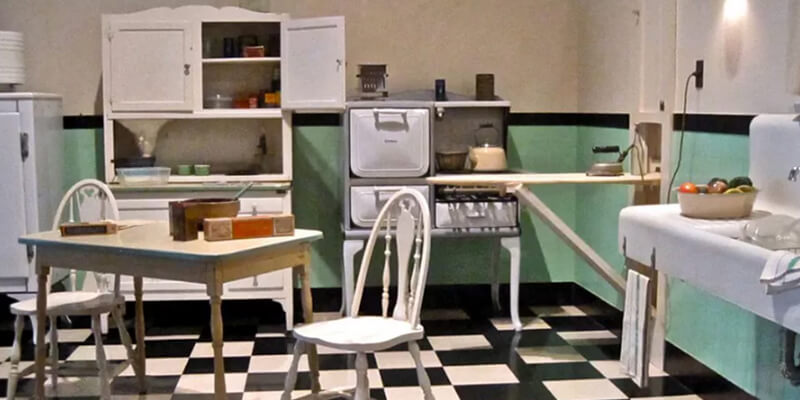 Photo Credit: The Spruce
The 1940s
While the idea of incorporating the kitchen and dining room had been floating around since the 20s, the concept became a staple in almost every home by the 1940s. Adding a comfortable seating area to the kitchen transformed the space into the ideal location for casual family meals. It was perfect for encouraging families to spend time as one, catching up on their day while meals were being prepared.
In terms of design, the 40s kitchen encapsulated all things vintage – there was no such thing as 'too many patterns'. From flooring and walls to curtains and tablecloths, every component was filled with an eye-catching design.
Similarly to the refrigerator, while the wringer washing machine was invented in the past, it only made its way to UK homes in around 1948. The wringer washing machine took its place in the kitchen, allowing clothes to be washed and dried all-in-one, considerably quicker than any other previous method. More information on the use of wringer washing machines can be found on Den Garden.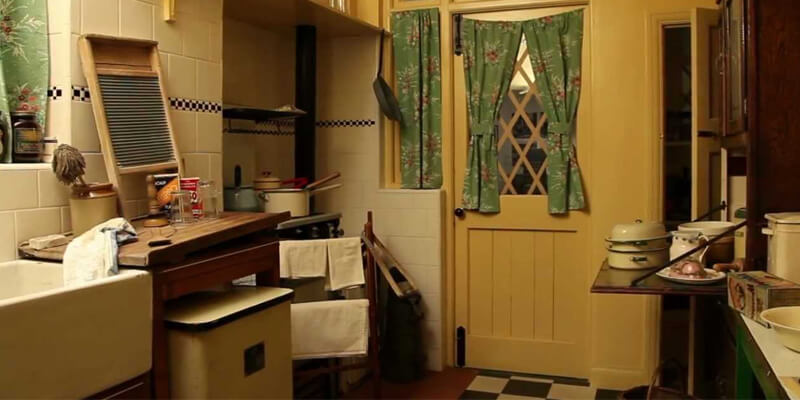 Photo Credit: YouTube
The 1950s
While the 1950s featured the strong patterning and checkerboard flooring popular in previous years, the era was more commonly known for pastel colours and bubble-shaped appliances. Yellow, green and pink were sought-after colours for cabinets, which were now made from metallic steel as opposed to wood – it was all about making a statement. Many households opted for coordinating their furniture and fixtures with appliances such as kettles, stoves and fridges. While on the topic of refrigerators, the 1950s saw the introduction of the 'modern' fridge that we know today. Inside featured in-door compartments, drawers and glass shelves, making them super easy to clean.
It is also important to highlight that 1954 was the end of rationing, which means that the mood of households was instantly lightened. Kitchens were brimming with tasty ingredients; many even started to invest in their first electric oven!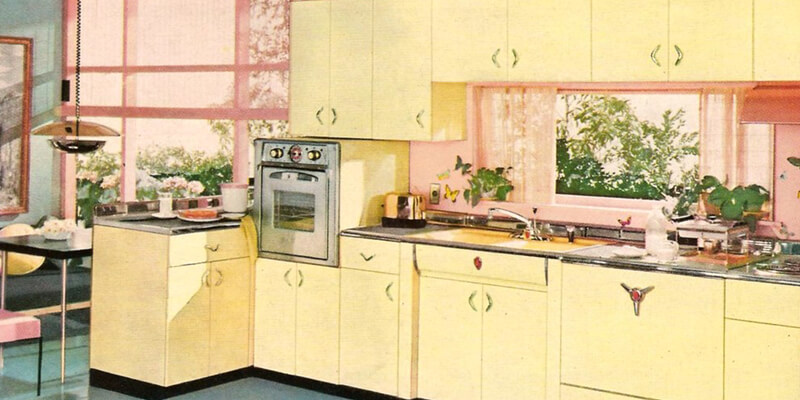 Photo Credit: Flickr
The 1960s
We are all more than familiar with the bold trends of the 60s. Let's be honest; there was no such thing as subtle! From orange floral wallpaper to lime green accessories, designs are instantly recognisable. For those living in the era, the more unique and individual your home decor can be, the better!
As featured in an article by UKTV, the 'swinging sixties' has been named the most defining decade of the century. From Neil Armstrong's moon landing to the first-ever James Bond movie, there most definitely wasn't a dull moment in the 60s. And, the memorable moments were not just limited to the celebrity world. Kitchen appliances took a huge leap during the period, with items such as dishwashers, freezers and blenders becoming readily available to every home.
When it comes to food, there were also plenty of changes. Chicken changed from a one-off treat to a weekly ingredient, and frozen food grew in popularity. To find out more, Wide Open Eats has put together a great article on the most popular food in the 60s.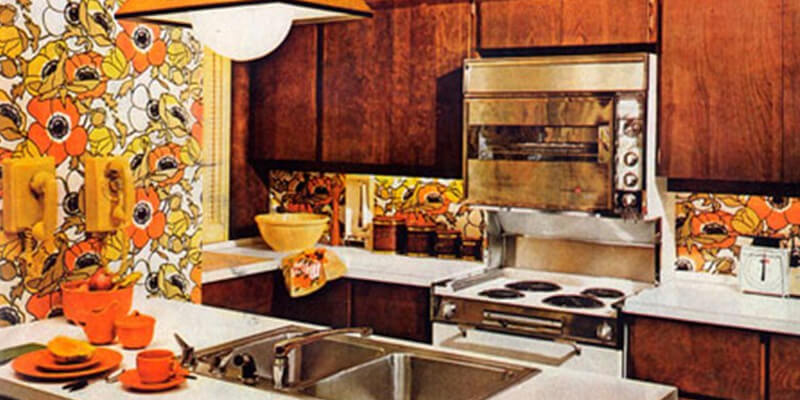 Photo Credit: House Beautiful
The 1970s
As we enter the 1970s, it's only fair to begin our snippet with the colour of the decade – avocado green! From appliances and accessories to full kitchen suites, absolutely everything was available in the daring green shade. Other popular colours included muted yellows, browns and gold accents. Unlike the 60s, schemes were based on a more earthy palette with warm lighting for a darker atmosphere. The aim was to make the kitchen a cosy retreat to unwind at the end of the day as a family.
Although the interior design of the 70s kitchen couldn't be more different to modern-day themes, the overall layout, along with appliances, has many similarities. The era introduced a more seamless-style approach, opting for removing handles from cabinets and designing fixtures to slot into every contour. In terms of appliances, it wouldn't be a surprise to see a microwave in 70s homes, accompanied by an integrated oven.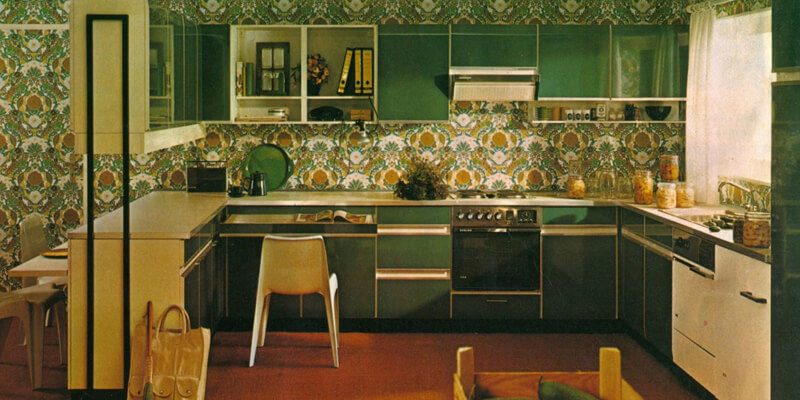 Photo Credit: Timeline
The 1980s
The dark atmosphere of a 70s kitchen didn't last for long, as by the 1980s, designs were back to incorporating a brighter, lighter and whiter approach. Homes said goodbye to muted tones and warm lighting and instead, said hello to ivory countertops and enhanced natural lighting. A neutral colour palette was most definitely here to stay.
When purchasing appliances, you could almost guarantee that your choice would be between three colours – white, black and ivory. The trend to design a more simplistic kitchen also included u-shaped suites. Featuring a continuous work surface filled with cabinets and appliances, the u-shaped kitchen reached around three walls for super sleek aesthetics.
By the 80s, the kitchen was the main hotspot for socialising with friends and family. Due to this, the number of homeowners installing an island skyrocketed. Islands would double up as a breakfast bar, featuring high stools used to add a pop of colour.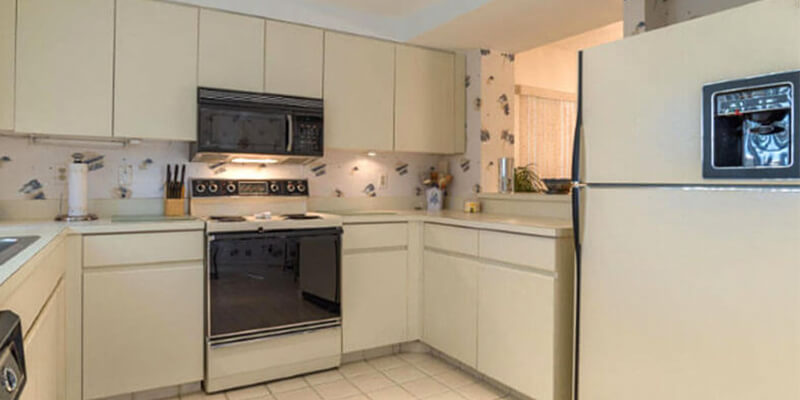 Photo Credit: Bath Plus Kitchen
The 1990s
As we grow closer to the millennium, we start to become more familiarised with the trends of the decade. While the neutral furnishing scheme remained, designs were accompanied by wooden cabinets and laminate countertops. When envisioning a 1990s inspired kitchen, think 'country home charm'. Rattan furniture started to grow in popularity, along with pastel floral accessories.
One of the most significant changes in the 90s was the shift in mindset towards the kitchen. Instead of being the heart of the home, designed with socialising in mind, the kitchen became merely a place to prepare meals. Families would be more swayed towards easy, ready-made meals, ideal for eating in front of the TV.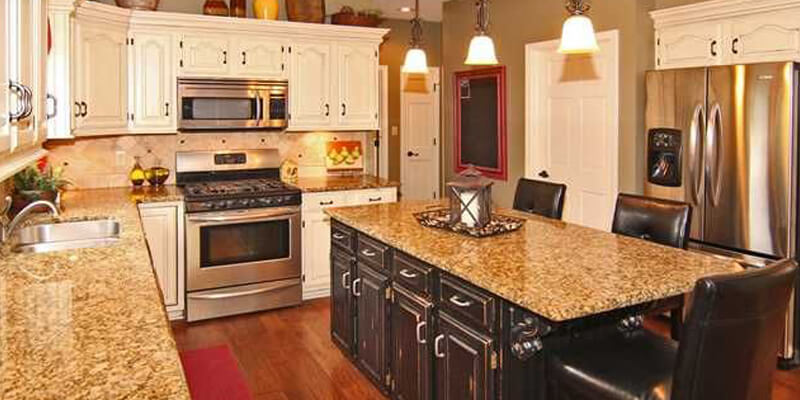 Photo Credit: Pinterest
The Modern-Day Kitchen
So, after travelling back almost 100 years, we're back where we started, here in the modern-day. As specialists in designing and installing modern kitchens in Buckingham, we must admit that this is most definitely the most exciting era. With technology available to complete almost any task within a few seconds, along with a plethora of sleek designs, it couldn't be easier to give your kitchen a real 'wow factor'. The kitchen is back to being a hotspot for entertaining guests, and even the most unique of ingredients are available with a snap of the finger.
The aesthetics of a modern kitchen encapsulates a contemporary theme. With a monochromatic colour scheme remaining a sought-after trend, kitchens feature a subtle pop of colour with quirky appliances.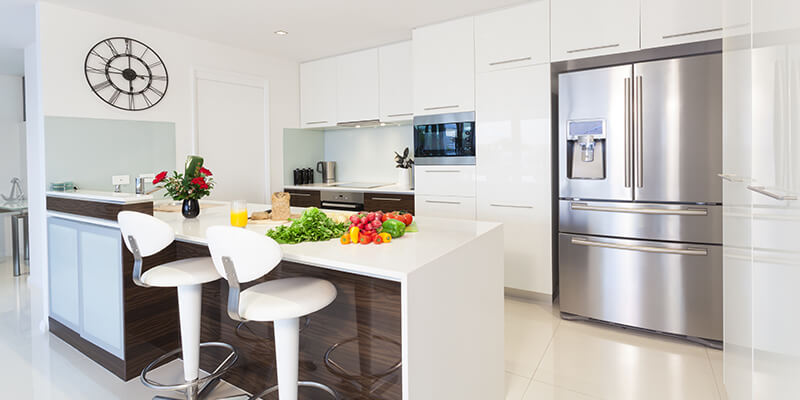 A Whirlwind Time-Travel Through The Decades
We hope that you have adored looking back at the ever-changing kitchen trends of the last 100 years just as much as we have. Designs have come a long way as technology continues to evolve; we cannot wait to see what's to come in the future!
If you have felt inspired to give your kitchen a little TLC, then why not visit our kitchen showroom in Milton Keynes? With an array of modern and traditional styles available, you are guaranteed to find the perfect suite!