With modern appliances and innovative interior design ideas now becoming statement features of household kitchens, you may think yours requires some TLC. Luckily, you can effortlessly transform your kitchen with our inexpensive kitchen splashback solutions.
Inexpensive kitchen splashback solutions for your home
Your kitchen deserves as much care and attention as any other room in your home, so why not add some character to the entire space with a splashback? Offering the ultimate wall protection for your kitchen, splashbacks also boast amazing reflective qualities which help brighten the room for an attractive enhancement. The versatility of splashbacks means you can be as creative as you like to make the perfect addition to your kitchen. If you really want your splashback to make an impression, you could even pair it with a quirky extractor fan your guests are guaranteed to marvel over. With so many designs, styles and materials to choose from, it can be difficult to narrow down your search and select just one. If you are struggling to consolidate all of your creative ideas, we recommend visiting our kitchen showroom in Milton Keynes where you are bound to be inspired with our host of splashbacks on display.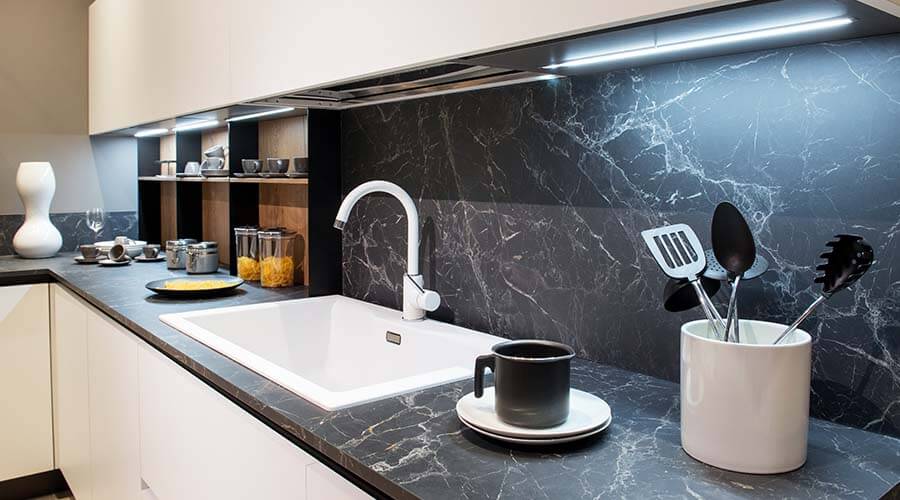 Recycled materials
Probably the most budget-friendly solution of them all, a splashback made of recyclable materials promises to make a statement in any kitchen. A few years ago, a Belgium designer couple reused a veined marble tabletop from a huge tabletop as the backsplash for their kitchen. The results were undeniably stunning, and that fact it is eco-friendly makes it all the more impressive! However, if you don't have any suitable material lying around which can be made into a splashback, glass is always an excellent option. Being 100% recyclable, glass splashbacks are just as environmentally friendly and are actually one of the most popular materials to use. When it comes to colour choice and versatility, glass splashbacks are difficult to compete with as you can opt for a plain, solid colour or choose a personalised, photo-effect of your choice. Glass splashbacks are especially favourable if your kitchen style is contemporary and minimalistic as they are very sleek.
Mosaic inspired
A mosaic masterpiece in your kitchen will definitely capture your guest's attention and give the room an attractive focal point. Boasting a more polished appearance than other typical splashback materials, such as natural stone, mosaic splashbacks are the artistic statement your kitchen may be missing. With optional iridescent and shiny finishes, you can easily make neutral colours appear as bold as primary colours, making it perfect for any kitchen style or colour scheme. We all know how messy kitchens can get after cooking and splashbacks are especially problematic as they are susceptible to accumulating dirt, grease and food residue. Grout joints aside, you will be happy to hear that mosaic splashbacks are considerably easy to clean, meaning your kitchen will be left gleaming at all times. As well as being easy to maintain, the mosaic tiles used for splashbacks are available in a variety of shapes, including square, circular and hexagonal. Having years of experience installing traditional kitchens in Aylesbury, we can confirm that a mosaic splashback complements the decor well. They also look stunning in modern kitchens, thanks to the huge variety of colours and finishes available.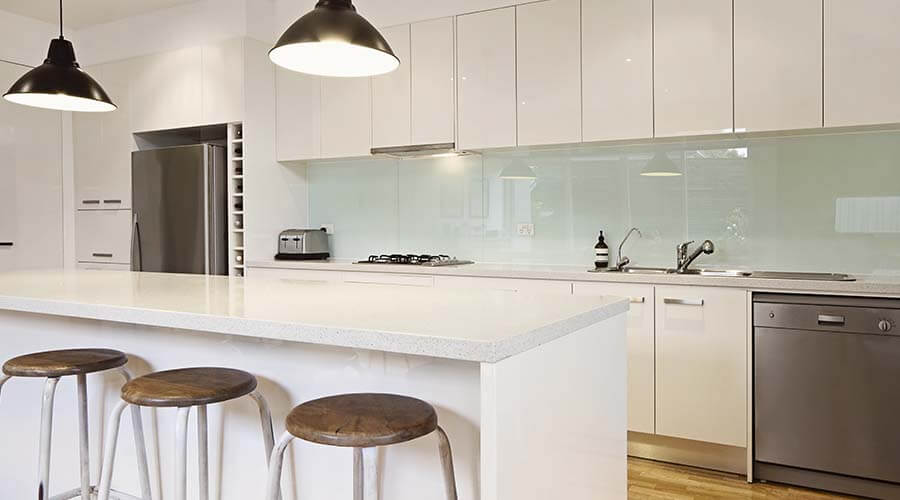 A pegboard
Combining innovative design and practical use, a pegboard splashback is the ultimate kitchen companion. If you thrive on efficiency, a pegboard to display all of your kitchen utensils within hands reach is what you need. As a multi-functional splashback, you will reap the benefits of an appropriate storage solution as well as sufficient wall protection. Although this type of splashback is beneficial for storage purposes, we wouldn't recommend installing it directly above your hob in case any of the utensils get in the way of your cooking. Alternatively, you could display your splashback behind the sink or underneath your cabinets – an ideal location for when you are preparing food! A number of our bespoke designed, custom-fitted kitchens in Towcester have featured unique splashbacks, with breathtaking results – so a pegboard splashback is definitely worth considering.
Stainless steel
Despite its futuristic, sleek look which makes it appear expensive, stainless steel splashbacks are very affordable. A lot of homeowners opt for stainless steel splashbacks as its metallic appearance works well in any kitchen and complements most styles. The durability of stainless steel is also an added bonus as it reduces the risk of mould, making it a compelling long-term investment. Another benefit of this inexpensive solution is that you do not need to hire a specialist to install the splashback. As one of the most lightweight splashback materials available, you can actually do it yourself and reduce your expenses even further.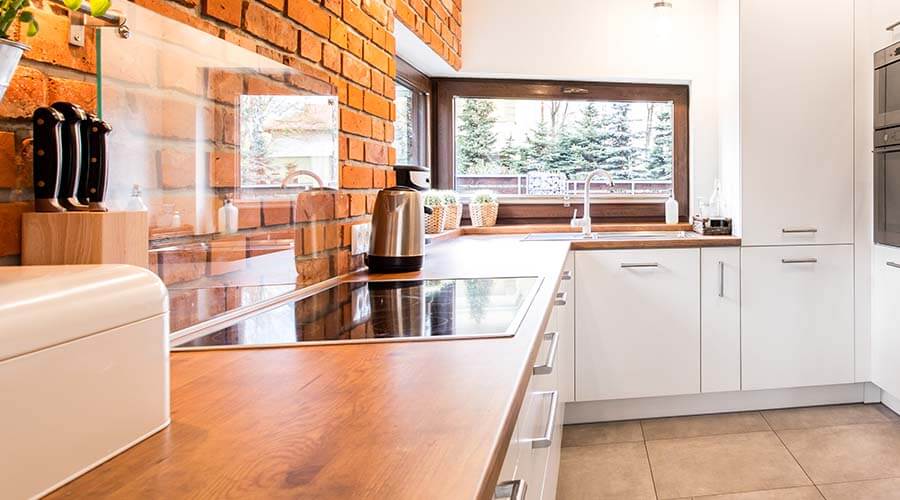 LED
If you want to give your kitchen the wow factor, LED splashbacks are the answer. When purchasing an illuminated splashback, there are several factors you need to take into consideration. For example, you want to make sure the actual lights used for your splashback are high-quality and long-lasting. There are so many benefits of using LED lights but you should be aware that you can get many different beam angles, outputs and colour temperatures. For this reason, we advise shopping around and finding the perfect light fitting which illuminates your kitchen just the way you envisioned. You can also install LEDs which are dimmable, water-proof and splash-proof. Most importantly, you will need to decide whether you want your splashback to emit one solid colour, or let the colour spectrum gradually change and lead one to another. LED splashbacks are ideal for modern kitchens but also great in general if you tend to use your kitchen to entertain guests, as it provides the perfect ambient lighting.
Complete your kitchen with a stylish spalshback
We hope our inexpensive kitchen splashback solutions have given you the inspiration to create the perfect finishing touch to your kitchen. As a team of professional kitchen fitters in Buckingham and surrounding areas, you can rely on us to create bespoke kitchens, as well as advise you on some of the latest kitchen design trends. So, if you need help deciding on what splashback would work best in your kitchen, please do not hesitate to contact us.