The kitchen is commonly seen as the heart of the home. It is the hotspot for cooking up delicious food, enjoying evenings of laughter and catching up with loved ones. A kitchen that is not only practical and functional but welcoming, cosy and aesthetically pleasing creates the ideal haven for entertaining guests.
With this in mind, if you are in the process of considering a kitchen reconfiguration, then you would be pleased to know that there are a plethora of fantastic layout possibilities. Each comes alongside its own attractive quirks which make them sought-after for many homeowners. So, without further ado, let's delve deeper into the best kitchen layouts for entertaining.
A Guide On The Best Kitchen Layouts For Entertaining
Whether you are the host of the all-important Christmas Day dinner or you adore inviting friends round on a Friday evening, a kitchen that encompasses all things practical yet welcoming is imperative. Every property is unique, as is every homeowner, which means that the style, layout and interior design of your kitchen will always differ. It is vital to take into consideration the size of your kitchen before going ahead with any plans as you want to avoid a space that looks overcrowded. Here we run through the top five kitchen layout options, along with the type of home that they are best suited to.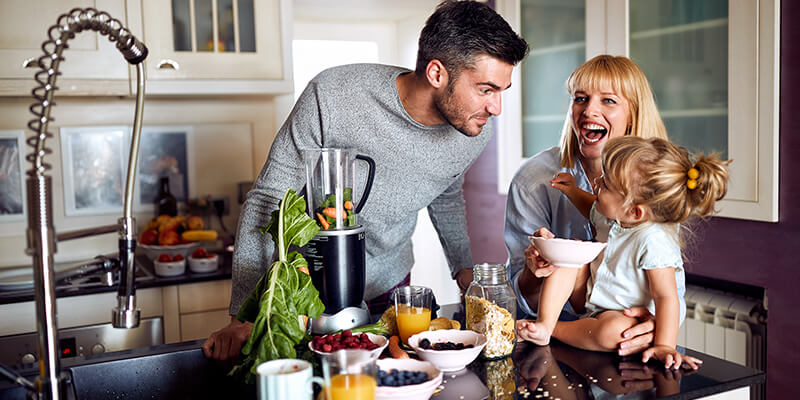 U-Shaped Kitchen
As the most practical kitchen layout, adopting the u-shaped style means that your design will be heavily revolved around storage solutions. In a u-shaped kitchen, three walls are connected seamlessly through a lining of cabinets, worktops and integrated appliances. It is ideal for utilising all wall space while freeing up as much floor space as possible, making it perfect for those who regularly entertain guests or have a passion for cooking. As worktops are uninterrupted and span across three walls, it means that the u-shaped layout is suited to kitchens of all scales. Both small and large kitchens can be transformed into a spacious space with clean lines and a contemporary appearance.
When designing a u-shaped kitchen, it is important to focus your efforts on incorporating all of your needs into the three-walled workspace. You want to aim to keep all other areas of the kitchen as empty as possible to avoid the room looking overcrowded. Another way to prevent a crowded appearance is to make a conscious effort to enhance lighting; both artificial and natural. Keep all areas surrounding windows free from cabinets to ensure that natural light can circulate the room. If you lack natural light, then we suggest integrating artificial lighting into your u-shaped workspace. Energy-efficient, LED lighting can be installed underneath cabinets to discretely light countertops, along with recessed ceiling lighting. Recessed ceiling lighting is most commonly a choice for bathrooms but works effectively in kitchens to create a brighter and more open atmosphere. As opposed to hanging fixtures, recessed lighting is installed into a hollow in the ceiling. This creates the appearance of several spotlights.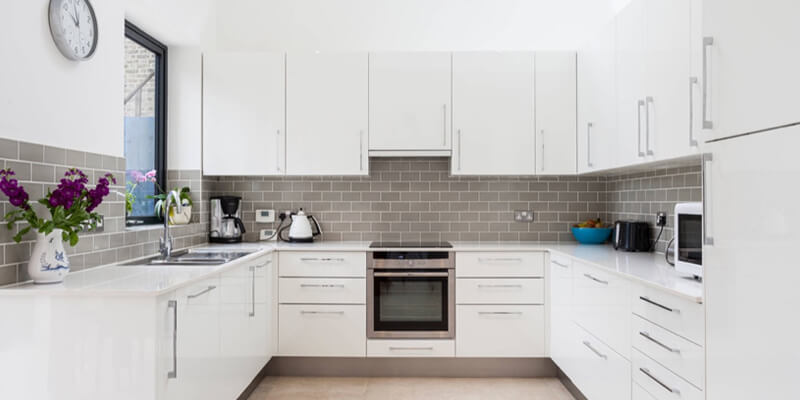 Photo Credit: Home Designing
L-Shaped Kitchen
Similarly to its u-shaped alternatives, an L-shaped layout maximises the floorplan of your kitchen by utilising available wall space. Storage solutions and appliances are, however, installed to only two walls. As the standard kitchen configuration, L-shaped designs take a considerably more sensible approach to their opponents. They feature two adjoining walls of countertops which create an l-shape, leaving the remainder of the kitchen free to add, for example, a dining table or island. Those who are more limited in terms of space would be best suited to an L-shaped kitchen as it allows you to incorporate all storage and appliances into one place while leaving more than half of your floor space free for entertaining.
At our kitchen showroom in Milton Keynes, the L-shaped layout is most definitely the most popular option. Due to the nature of the configuration, every component can be tailored to meet the requirements and space limitations of homeowners. For those with a smaller floorplan, we opt for integrating all appliances required to create a functional kitchen into the L-shaped workspace. Ovens, hobs, dishwashers and even refrigerators can be streamlined into the design, leaving the rest of the kitchen free from any furniture or fixtures. We also advise those with restricted space to consider a more neutral colour scheme with bright, crisp shades. Lighter tones reflect light making a spacious atmosphere, whereas dark shades absorb light and enclose the space. In this case, the Milano Contemporary range would be best suited, featuring a monochromatic palette, as opposed to Milano Classic, which is designed with wooden countertops and a darker colour scheme. Combining all of these elements allows you to create an aesthetically pleasing space to invite guests, regardless of the size of your kitchen.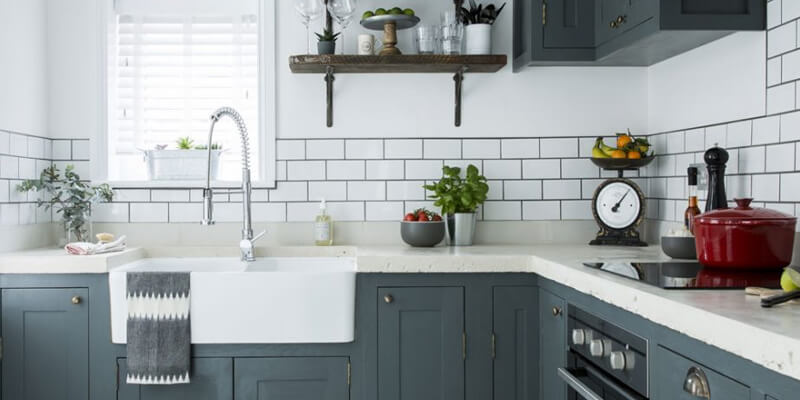 Photo Credit: Ideal Home
Galley Kitchen
The galley kitchen layout is rarely considered when planning a space ideal for entertaining as it doesn't promote open plan living. Still, it can be a consideration if you are lucky enough to have a large-scale floorplan to experiment with. It is most commonly seen in homes which are a lot longer than they are wide, creating a tunnel-like appearance. A galley-style kitchen features parallel units which run across two walls; however, are not connected. It is entirely your choice as to whether you opt for symmetrical units which mirror one another or give each unit a different purpose. It should be noted that, to avoid the kitchen looking overcrowded; differentiating units would be the best route. One should feature wall-mounted cabinets, along with your cooking hood, oven and hob – this will be the busiest side. The opposite side, on the other hand, will take a more simplistic approach. The wall will be clear from cabinets and instead, feature exposed shelving with a countertop below. Here, you may want to consider installing your sink and any storage cupboards underneath to optimise space.
A galley layout would be ideal for those who have a kitchen diner. The units can be placed at the entrance of the kitchen, then lead to the dining area at the end. It means that the designated chef can still interact with their guests while they relax at the dining table. Ideal Home has put together a super helpful guide to the best galley kitchen ideas for more inspiration!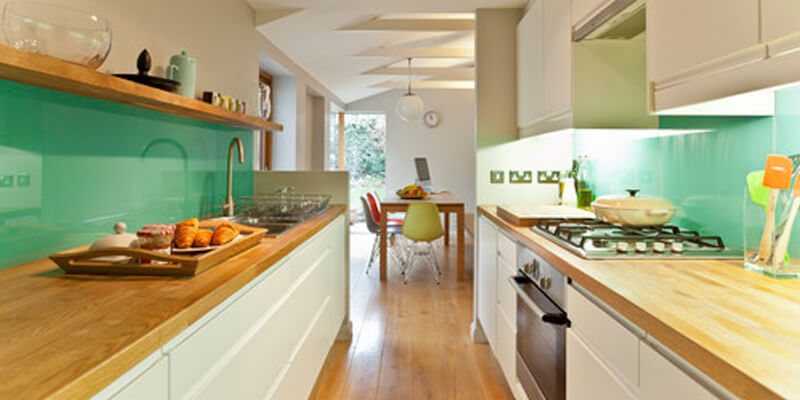 Photo Credit: Forbes
Island Kitchen
Continuing to grow in popularity around the world, the island kitchen remains the most requested design amongst clients when installing kitchens in Woburn Sands and surrounding areas. Any kitchen layout, including those mentioned above, can incorporate an island. Due to the growing demand for islands, all of our kitchen styles now include the option to design a bespoke fixture based on your requirements. From the traditional Ashbourne range to a super contemporary Atla, an island makes the perfect addition to any kitchen.
By definition, an island is a freestanding piece of cabinetry, which is placed in the centre of a kitchen. Islands can be used to supplement worktop space, enhance storage or create a breakfast bar to enjoy meals as a family. It is a great way to add extra drawers, cupboards and storage space to your kitchen without making the room look cluttered or overcrowded. In some cases, homeowners with larger kitchens opt for equipping their island with amenities such as their stove or sink. As fixtures can be created entirely bespoke, plumbing or electrical work can be integrated to widen the possibilities of your island. This becomes particularly beneficial if you are a keen host who loves to invite guests to your home as you can stay in on all of the fun, even if you have to prepare dishes.
If you are designing an island to accompany an existing kitchen suite, then we suggest aiming to match the new fixture to your current interior design. Ensure that countertops complement your colour scheme, along with cupboards, stools and accessories. If you're stuck for ideas on how to make a statement with a kitchen island, take a look at Elle Decor for 50 fantastic ideas!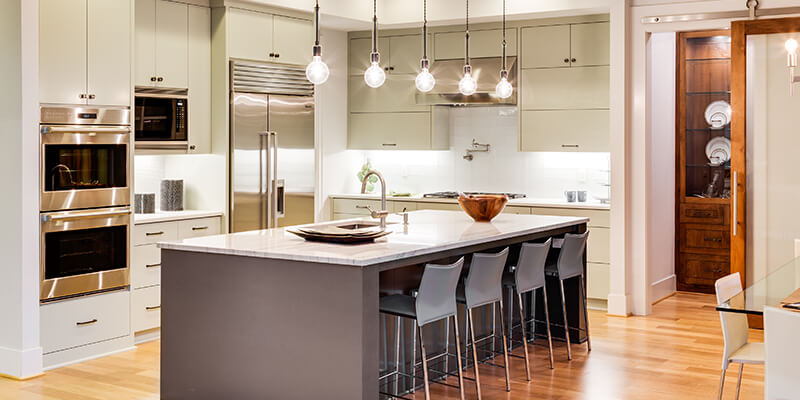 Peninsula Kitchen
A peninsula-style kitchen incorporates the concept of a u-shaped layout with the luxury of an island to create a multifunctional countertop unit. In simpler terms, when opting for a peninsula, you are merely connecting the unit and island to make one continuous kitchen suite. In some cases, this style may be referred to as a 'horseshoe' shaped configuration.
Although a peninsula layout can be used for kitchens of all scales, they are most popular amongst those who are keen on the idea of an island, but are limited in terms of space. When installing an island, you need to have plenty of room surrounding the fixture, not only to be able to manoeuvre your kitchen with ease but also open drawers and cupboards. A peninsula style kitchen, on the other hand, still allows you to reap the benefits of an island, but you will not have to worry about compromising most of your floorplan to accommodate its size. Another great advantage of the peninsula is that they can be as small or large as you wish. If you merely require additional storage, a shorter island would be ideal. However, if you want to use the island as a breakfast bar for socialising, then this can be extended to be the focal point of your kitchen.
If you have one, large space which is used as both your kitchen and dining room, then adopting the peninsula layout would be a fantastic way to create a divide between the two rooms. As opposed to building a wall to separate the rooms, adding an island to your kitchen suite will enable you to add a divider without enclosing rooms. Again, this is ideal if you regularly entertain guests as it means that the hosts will not be shut away from their loved ones in the kitchen.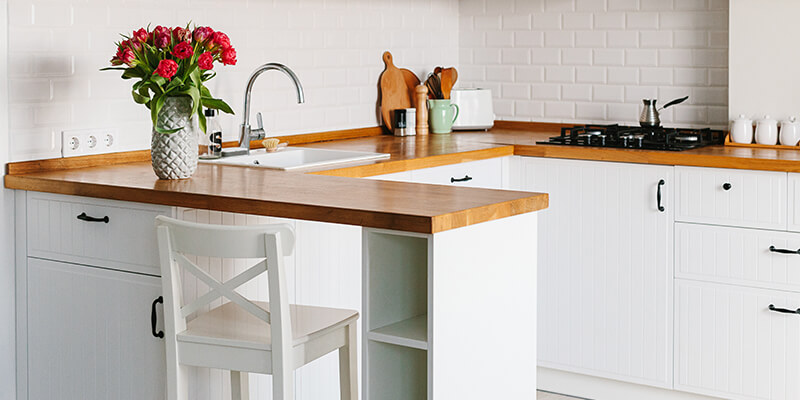 Sit Back, Relax and Enjoy!
Spending time to research the abundance of possibilities when redesigning your kitchen allows you to create a truly functional space that fits perfectly with your lifestyle. You can enjoy a spacious yet practical space which enables you to entertain guests without having to switch between rooms. Instead, everyone can spend time together in one, welcoming kitchen filled with fun and laughter!