A black and white kitchen is in the centre of modern sophistication, making it one of the most highly desired kitchen styles to date. Our monochrome kitchen ideas are here to inspire you and show you how versatile the theme is, so you can really be as creative as you like! Whether your preference is modern or traditional, minimalistic or lavish, a monochrome kitchen can accommodate to meet your criteria.
Stunning monochrome kitchen ideas
As professional kitchen fitters in Aylesbury, we pride ourselves on being experts in the latest kitchen design trends. Monochrome is a timeless classic theme that works especially great for kitchens. Before you begin transforming your kitchen into a stylish black and white space, it's important to have an idea of what you want the end result to be. Elle Decor, Pinterest and Nordic Design are excellent sources of inspiration and will be able to help you visualise what you want your own kitchen to look like. As interior design trends are constantly changing, you may be cautious of picking a style or theme that could potentially become outdated in a few years time. To lend a helping hand and ease your worries, we have devised a list of our favourite kitchen styles that perfectly complements a monochrome theme and will always remain popular.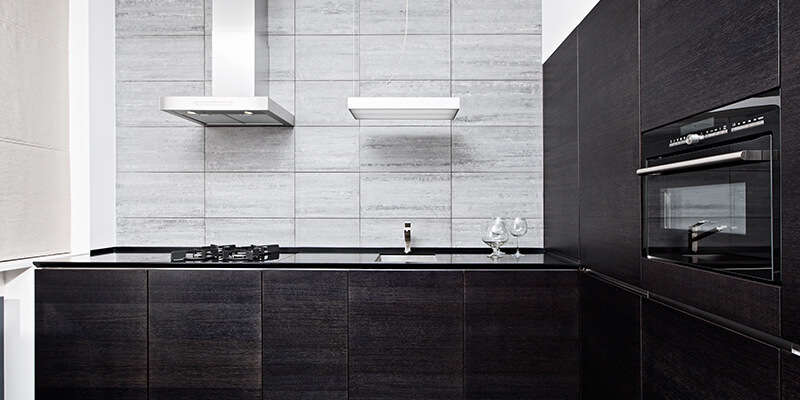 Minimalistic
Giving your kitchen a minimalistic makeover will not only improve its appearance but its functionality too. Cooking for your family in a cluttered kitchen makes the ordeal a lot more difficult than it needs to be. So, to eradicate the build-up of clutter in your kitchen, you should opt for a minimalistic theme. White is an easy way to convey minimalism as it automatically looks fresh, clean and simple. Our white kitchens in Woburn Sands provide the perfect blank canvas for a kitchen renovation and can be paired with black appliances, such as these induction hobs, for a coherent monochrome theme. If you have a breakfast bar or integrated dining room in your kitchen, adding a few simple black stools is a way to add elegance to your kitchen design.
To make sure your kitchen is as minimalistic as possible, you need to consider your storage options carefully. While it has become quite common to use open shelving and exposed cabinets in the kitchen for convenience, it is the complete opposite of what you need if you are trying to achieve minimalism. Instead, you should store away all the appliances that you do not regularly use, and only have a small number of essentials out on display. If you are an avid tea or coffee drinker, you could use this set of storage canisters to keep your tea bags, coffee and sugar fresh. The jet black containers with mirror polished stainless steel lids look undeniably refined and will not take up an unnecessary amount of space on your worktops. If you like to have all of your utensils within arms reach when cooking, instead of utilising open shelving and innovative pegboard storage solutions, consolidate the vital utensils and display them neatly on your worktop in a convenient holder.
It is important to remember that a minimalistic kitchen does not mean the space has to be completely empty. Being the heart of your home, you will want to make sure the kitchen still has character and feels like part of the home. Small finishing touches like plants or herbs can make a great addition to a minimalistic kitchen. With this white hanging planter, you can select three of your favourite plants and display them with ease near a window. As you can attach this to the ceiling or wall, you don't have to worry about taking up work surface space and disrupting the minimalistic theme.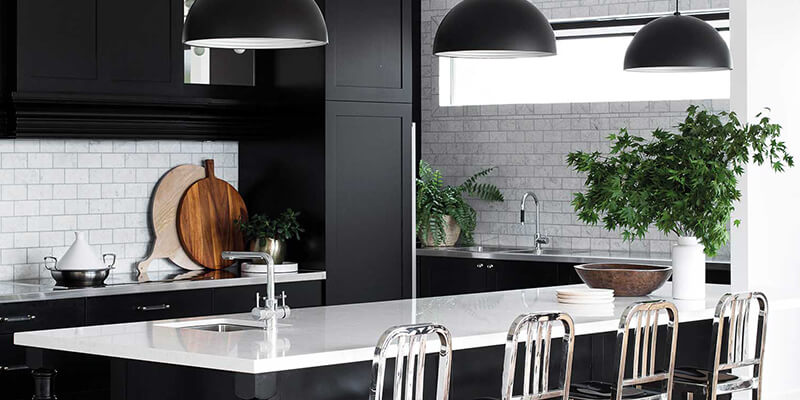 Photo credit: Home Beautiful
Industrial
Industrial interior design is an increasingly popular style that has found its way into homes across the UK. The highly desirable raw and unfinished look an industrial theme offers helps mimic the utilitarianism of a commercial kitchen and will look undeniably stylish in your home. Since the 80s and 90s, when it first became fashionable to have a professional-looking kitchen in the comfort of your own home, the industrial theme has become one of the nation's favourite kitchen styles. Many people opt to have an industrial themed kitchen as it provides not only a spacious layout but a functional one too. What makes kitchens so perfect for an industrial style is the fact that they are working areas. As you need to have your ovens, appliances and utensil storage anyway, instead of trying to disguise them, an industrial look allows you to highlight them. Using black, white and steel is a great way to achieve an authentic industrial kitchen.
Remember, the industrial elements of your kitchen can be as discreet or as obvious as you like. For example, these salt and pepper galvanised steel dispenser pots will subtly add to the ruggedness of your industrial theme and perfectly complement a monochromatic colour scheme. If you want to make a bit more of a statement, then you should consider incorporating this silver tractor table into your design. This practical table is the perfect combination of rustic and contemporary and will really enhance the industrial vibe you are trying to achieve. However, if you want to stick entirely to black and white accessories for a more refined overall look, then there are plenty to choose from.
Pendant lights are a key feature of any industrial themed kitchen and this 4 way caged ceiling light is simple but nonetheless eye-catching. Although you want your kitchen to look appealing, it also needs to be practical. This can be easily achieved with a black angled chimney hood. The sleek design of an angled chimney hood makes it an excellent addition to your kitchen, without conflicting with the overall industrial theme.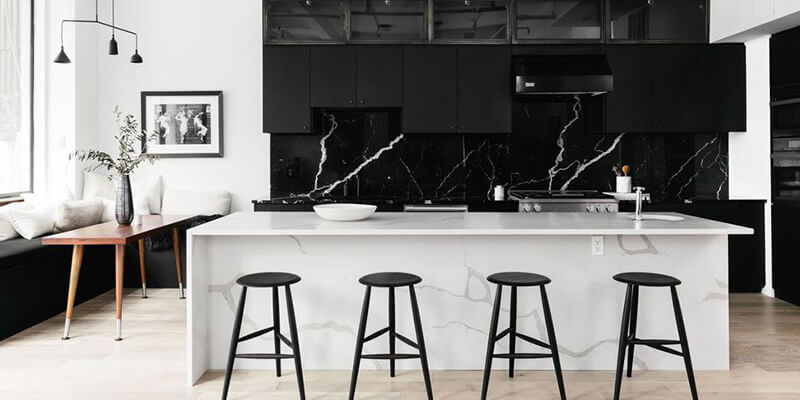 Modern
With years of experience fitting modern kitchens in Milton Keynes and the surrounding areas, we know exactly how to achieve the ultimate contemporary look. Our Colorado range is the perfect example of an ultra-modern kitchen and is available in gloss white – ideal for your monochrome theme! The gloss white finish means your kitchen will always look fresh, bright and be easy to maintain. If you are looking for a kitchen that exudes luxury, then you should also consider our New York range. We offer an array of appliances that will act as the perfect finishing touches to your new kitchen and keep it looking as modern as possible. Subtly enriched with pearlescent particles, this flush mount sink oozes contemporary style, is easy to maintain and perfecly complements most worksurface materials. Paired with some modern monochrome accessories, your sleek kitchen is guaranteed to impress friends and family.
If you want to modernise your existing kitchen without having to invest in entirely new units and worktops, you should swap your old appliances for new, state of the art alternatives. Why not ditch the old school kettle and upgrade to an instant boiling water tap?
A monochrome masterpiece
We hope our ideas have inspired you and has opened your eyes to the endless possibilities when opting for a monochrome kitchen. If you know someone that is looking to rejuvenate their kitchen and give it a whole new look, why not share this article with them on social media?