When you think of kids in the kitchen you may have visions of mess, spillages and chaos. But the reality is that teaching your children how to behave in a kitchen environment and involving them with cooking from a young age is an extremely helpful life skill.
Why Get Your Kids In The Kitchen?
Cooking is an essential life skill, without it our taste buds would be very limited. There would be no passion for food and finding dishes you like could be really difficult. Nowadays in school, they teach young children culinary classes, although it's discontinued unless your children choose catering at GCSE.
Teaching your children basic cooking skill from a young age is extremely beneficial and also provides quality time for you and your children to bond and do something fun together. You could make this a once a week occurrence, in which your children help you prepare the dinner you will be eating later on. It can be complex for children to grasp at first, and it's a good idea to keep younger children away from preparing or working with raw meats as there is the potential of illness. So if you want to encourage your children to learn the basics of food preparation and to help them broaden their taste pallet, keep reading! We've devised a list of tips you can follow to get your children involved in kitchens Leighton Buzzard.
Setting The Table
Unfortunately, you can only partake in activities with your child that they are interested in. Start your kids off by asking them to set the table to see if they show any interest in joining you in the kitchen. Ask them to set out cutlery, bread rolls, side dishes and sauces.
If your children show signs of interest in food or helping you out in the kitchen, then you can progress and begin to teach them more. More often than not your kids will be interested, as kids love doing anything that makes them feel more grown up and in charge!
Let Your Kids Help You Make Their Lunchbox
Before jumping straight in and letting your children help you prepare dinner, move on to something slightly less challenging. Although be sure to give your children options – otherwise their entire lunch will consist entirely of chocolate biscuits!
Let your children partake in jobs like buttering bread, putting their sandwich fillings in, and picking their favourite bit of fruit for their lunchbox. Simple things like this can make them more eager to eat their lunch knowing that they've helped prepare it – it's the little things!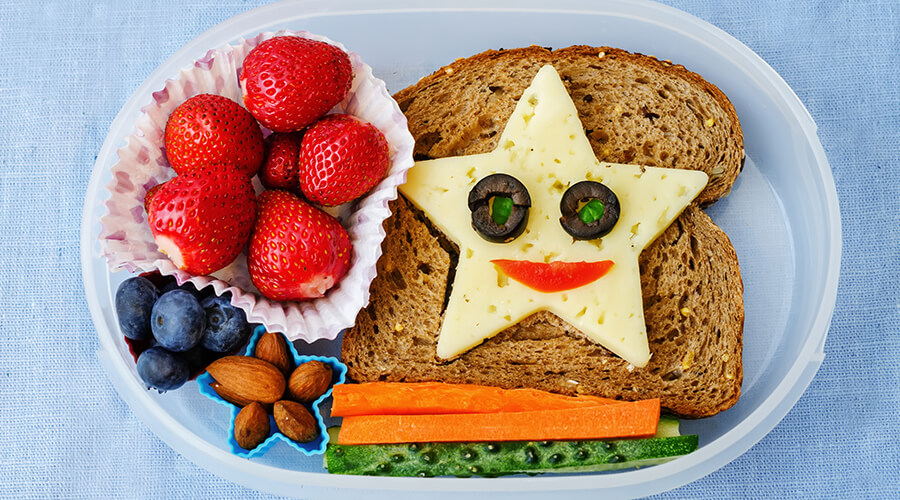 Give Your Child The Task Of Preparing Ingredients
A lot of dishes include ingredients that need things like chopping and washing before they can be used. Give these tasks to your children as they are simple and enjoyable. This includes asking your child to fetch the milk from the fridge or get something out of the freezer. Or ask them to rinse any fresh fruit and veg before you use them and explain why you need to do so.
If you aren't too worried about making a bit of mess and want to make things fun for your kids, why not teach them how to crack an egg? Although a slightly messy task – and you might need a couple of more eggs than you first anticipated! This makes the cooking experience fun for your kids, and it seems like you are putting them in charge of an important job. If you're going to let your children help you prepare meals in the kitchen, be sure to teach your children child and scissor safety. This includes walking with a knife or scissors facing downwards – this often is forgotten to be taught in schools nowadays.
Prepare Simple Dishes
It's a common known fact that children love anything sweet or sugary. Why not treat your children on the weekends and prepare their favourite dessert or something fun? Make sure these recipes are simple and take minimal time to prepare. One of our favourite recipes for children are these Rice Krispie treats, or try these chocolate cornflake cakes. Both of these recipes are simple and chocolatey – they can also be decorated with sprinkles or your child's favourite sweets. Take a look here for some more child-friendly recipes.
Another great idea to find simple short recipes for you and your children are to use children's cookbooks. You can buy recipe boxes or professional recipe books created just for kids. A lot of cookbooks produced for children are normally written by professional chefs who know the best child-friendly dishes. Remember if your child is being involved in the kitchen it's important to take the right safety precautions with things like hobs and ovens. Child lock is a setting that can be applied to your oven or stove when cooking with young children that prevents them from hurting themselves whilst cooking.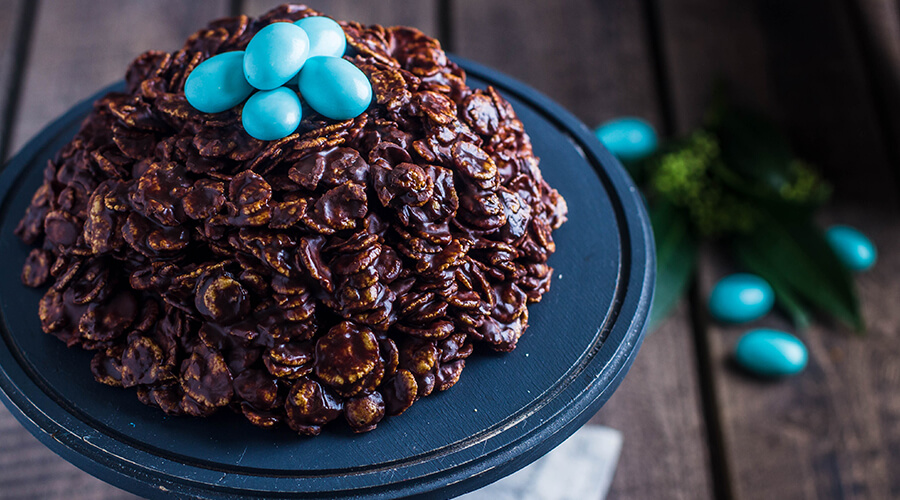 Involve Them In Clean Up Time
Realistically cleaning is not any child's favourite pass time. However, if your children have been involved in the food preparation process and have fun making tasty treats, they will feel obliged to help you clean up and feel grown up.
Make cleaning time fun! If you make something look fun it's instantly appealing to your children – take a look at this article for tips on how to make cleaning fun for kids. Some oft he tasks you can give your children include wiping down kitchen countertops, don't give children harsh chemical cleaners and let them wipe down sides with kitchen wipes – you can re-wipe them after if you wish. As well as this, ask your child to sweep the floor to catch any dropped ingredients, if they're slightly older give them the option of washing up or filling up the dishwasher. Make dishwashing time fun with a pair of novelty pink feathery washing up gloves – get them for your next kitchen cleanup!
Involve Your Kids In The Kitchen More Often
All in all, kids in the kitchen can be a fun experience and can start your children's passion for food off from a young age. As well as this it provides quality family time and bonding sessions for you and your kids – try to involve your whole household! Cooking in a brand new kitchen is even better, contact one of our kitchen fitters Towcester today for more information on our stylish range of kitchen designs.
We hope that this article was helpful, if it was then why not share on social media?