Kitchen gadgets can make your life easier, especially if you have a family that you cook for every evening. Kitchens gadgets can be brought online or in shops to improve your culinary skills and make the cooking process simpler and less messy.
What Are The Best Kitchen Gadgets?
Over the years, as technology advances, there have been thousands of new kitchen appliances and gadgets released. But the critical question, is which would be the most beneficial to you, and make your life easier?
Preparing food is difficult and takes endless amounts of practice to perfect, there are plenty of things that are difficult to do. Which is why kitchen gadgets have been invented to improve your quality as well as to make the process quicker and easier for yourself. There are many different types of kitchen gadgets, both electrical and non-electrical devices which can help you with different stuff within the kitchen. If you are thinking of improving your culinary skills, or you just want to update your kitchen with some quirky new kitchen gadgets, keep reading! We've devised a list of the most wanted kitchen gadgets of this year.
All-In-One Frying Pan
One of the most popular kitchen gadgets that has been dominating the internet for the past few months is the all in one frying pan. With built-in dividers, the all in one frying pan can make cooking your family a full English breakfast a lot quicker and easier as opposed to preparing everything independently.
The pan is created with 4 different sections. The middle section is the most significant space in a square shape which is designed for the cooking of meat such as sausages, bacon or even beef patties. Adjacent to this you have another large section, and then 2 smaller broken down sections. You can cook anything you wish in these sections; they are ideally suited for things like eggs, tomatoes, mushrooms, pancakes or anything you can think of.
The trend originally started with English breakfast all being able to be prepared in one place, but has since grown as people have been experimenting with alternative dishes that can be cooked in the all-in-one frying pan. Such as burgers, fajitas and much more. Purchase yours here!
Clear View Toaster
Gone are the days of wasting slices of overly burnt bread and throwing chargrilled toast in the bin. It's hard to judge the progress of your toast when you can't see it, which is why the clear view toaster was born.
Created by Magimix, the vision toaster is a tremendous creating that has changed kitchen users lives forever. With a glass window positioned right at the front of the toaster where you insert the slices of bread, you can watch the progress of your toast as its toasted. This is perfect for those who are scrambling about early in the morning and want a few slices of toast to get them ready for the day – but are continually burning them. Never burn a slice of toast again with the vision toaster. And no need to worry about the burning crumbs at the bottom of the toaster like other appliances, this gadget comes in with a built-in crumb tray that can be emptied!
And whether you like your toast slightly overcooked, or next to not cooked, there are 8 different browning levels on this toaster that can be altered dependant on who's using the toaster! Purchase yours here.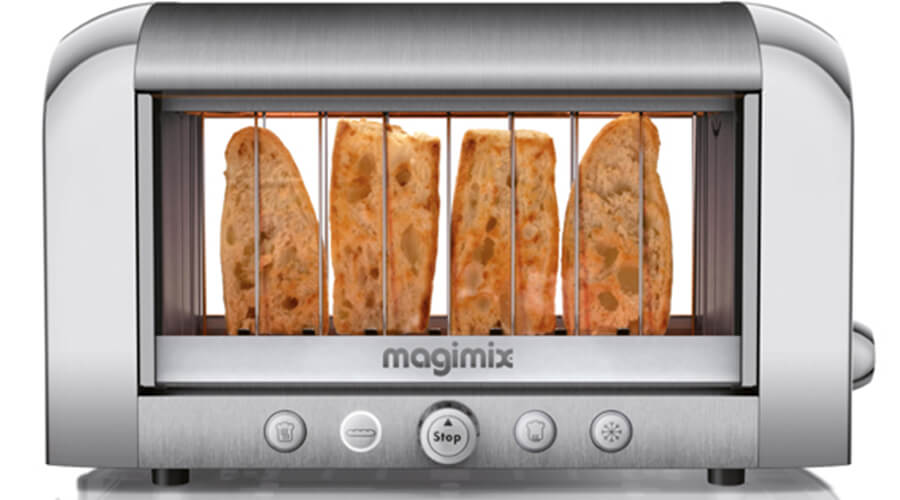 Stirmate Pot Stirrer
We have all been through the pain of food becoming stuck or burnt at the bottom of the pot due to forgetting to consistent stirring, or not stirring enough. A device has been created to eliminate this problem with the simple touch of a button!
The Stirmate was created in America; it's designed to prevent kitchen users from leaving their pots to boil over, or allowing the contents to become burnt to the bottom from not being stirred enough. A lot of the time people become distracted and it's easy for you to lose track or become tied up in something else, and before you know it, your scrambled eggs are ruined. The Stirmate is available for an affordable price, and it fits all pan sizes! It can self-adjust itself to fit pans anywhere from 6 inches to 9 inches wide, and can stir between a diameter of 3-9 inches. Unfortunately, this is an American based product, but you can order it in the UK from their Amazon.
VonShef Defrost Tray
How many times have you been in the situation where you've forgotten to take the chicken out of the freezer to defrost? It can mess up your entire meal plan, and you could end up having to make a quick alternative when you make this mistake. Which is why VonShef created the defrost tray. The defrost try uses absolutely no heat or chemicals to defrost your meat, but work to thaw is safely in the times of between 30-60- minutes dependant on the thickness and cut of the meat.
Smaller meats like bacon, prawns, sausages and beef patties take even longer to defrost, meaning that you don't have to worry about what you can make for dinner alternatively. This magic tray remains cool to touch, the entire time you are using it and thaws your meat safely without martial cooking as a microwave would cause. It's most definitely a tool needed in all modern kitchens Buckingham!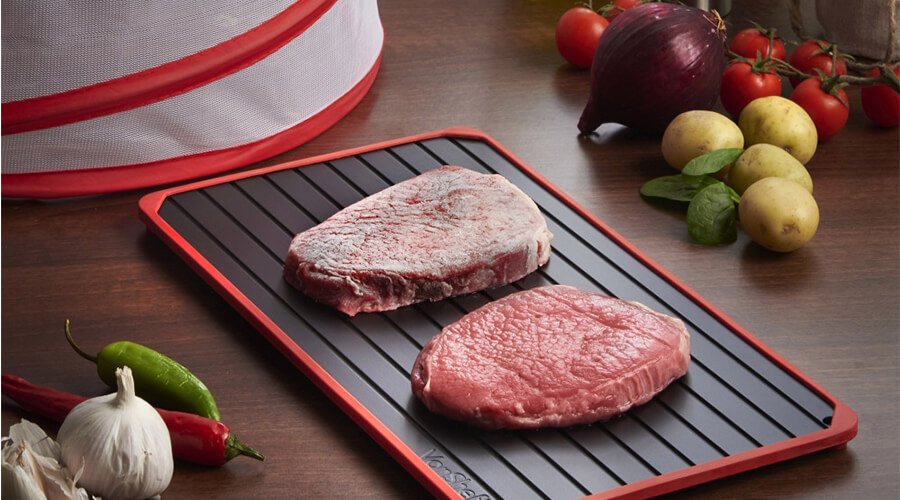 Stovetop Pizza Oven
If you love pizza but don't like the greasiness of takeaway pizza, you can make your own healthier pizzas with this fantastic device! The Stovetop Pizza Oven was created as an easier way to cook stone baked pizza without having to use a pizza stone or pizza oven.
When purchasing this device, it's important to note that it will not be able to work on an electrical or induction burner. This product only works on a gas burning stove and produces beautiful crispy pizzas that are healthier than takeaway pizzas and can be personalised to your specific tastes. Once again this product is American, but it can also be purchased on Amazon.
Neff Griddle Plate
We had to mention one of our favourite kitchen accessories! The Neff Griddle Plate is a kitchen necessity, and can totally transform the way that you cook. Not only is it simpler to use than a standard pan, but it's less messy and doesn't spit – and is a healthier alternative to oils in pans.
The pan is non-stick, meaning you don't have to grease it up, and can cook anything from meats, seafood and grill vegetables! We love using the griddle pan, and use it to make our dishes healthier. One of the most common things that can make your food worse for you when cooking meat, is that it cooks in its own fats and juices. Although this may be good for the taste, if you are on a health kick then this could be bad news with certain foods. The griddle pan has a trough that drains all of the juices and fat, so that your meats don't cook in all of the unhealthy stuff!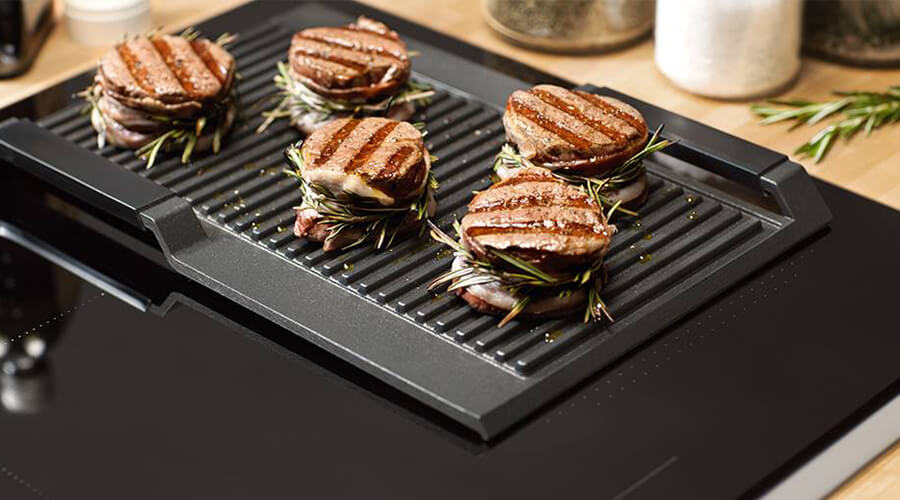 Teppan Yaki Smooth Grill Plate
This piece of kitchen kit is ideal for those who love to try new things in the kitchen and have a passion for food. Designed for use on the large surface area of a FlexInduction hob, this smooth grill plate is fantastic at cooking vegetables, meat and seafood. The Teppan Yaki Smooth Grill Plate works particularly well for Japanese dishes, as they involve a lot of seafood.
This plate is extremely fast heating, ensuring fast preparation of foods. It also is made of high-quality stainless steel, so will always look clean and new. We can't recommend this kitchen accessory enough, you will see the way it transforms your style and taste of cooking just by one use!
Update Your Kitchen Today!
These gadgets can make your life easier and also allow you to experiment more in the kitchen with your culinary skills! For more information about white kitchens Towcester, please feel free to contact a member of our team today.
We hope that this article was helpful, if it was then why not share on social media?