As the central hub in any home, your kitchen sees a great deal of action on a daily basis. From rushed breakfasts before the school run to dinner parties and long chats over drinks, the need for a kitchen to be both functional and aesthetically pleasing is a must. If you're currently looking to renovate your kitchen or simply add some little cosmetic touches, why not look into some sustainable kitchen design ideas to make the space as eco-friendly as possible.
With buildings accounting for nearly half of the world's energy expenditure, as explained here by Sustainable Design collective, the need to reduce our carbon footprint and create more sustainable spaces within our homes is more important now than ever before.
Easy Sustainable Kitchen Design Ideas
With an increasing desire to become more eco-friendly, it's merely a matter of time until the population adopts a sustainable way of life rather than just talking about it. Luckily, there are many ways in which sustainable design can be incorporated within your home, particularly the kitchen, so you too can start doing your bit for the environment.
Take a look at our top 8 sustainable design ideas and choose a few to use within your kitchen; we promise, living sustainably is a lot easier than you think!
1. Sustainable Materials
2. Energy Efficient Lighting
3. Enhanced Ventilation
4. Use Re-Purposed Items
5. Improve Insulation
6. Use Potted Plants
7. Plastic Free Storage & Utensils
8. Energy Efficient Appliances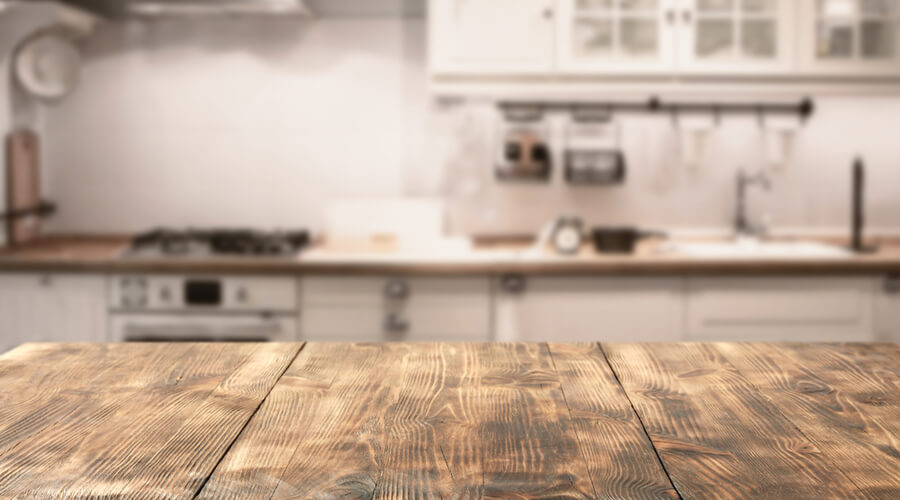 1. Sustainable Materials
Sustainable by definition, in terms of materials, are those that provide environmental benefits throughout their life-span. This includes where they derive from, how they are installed and the way in which they are disposed of. In general, woods such as timber, bamboo and oak are a great natural resource, and managed correctly, provide the perfect sustainable material. Having worked as kitchen fitters in Buckingham and surrounding areas for many years, we have noticed a definite increase in the requirement for sustainable materials within kitchen design.
Eco-friendly materials go beyond our kitchen counters and cabinets, so if you aren't looking to replace your fittings, there are smaller things that you can change that will have a positive effect on the environment. Here are a few simple ideas that you'll be able to put into place today:
2. Energy Efficient Lighting
Many households utilise energy efficient lighting nowadays, so if you don't already, it's time to follow suit. Not only will they reduce your electricity bills, but they also give off far less CO2 emissions and greenhouse gases, making them a no brainer when thinking of lighting within your kitchen. Take a look at lights.co.uk for a huge range of energy efficient lighting designed specifically for the kitchen.
Energy Saving Trust has a great guide on getting the best energy efficient lighting for your kitchen, which is definitely worth a read if you are wanting to look into this.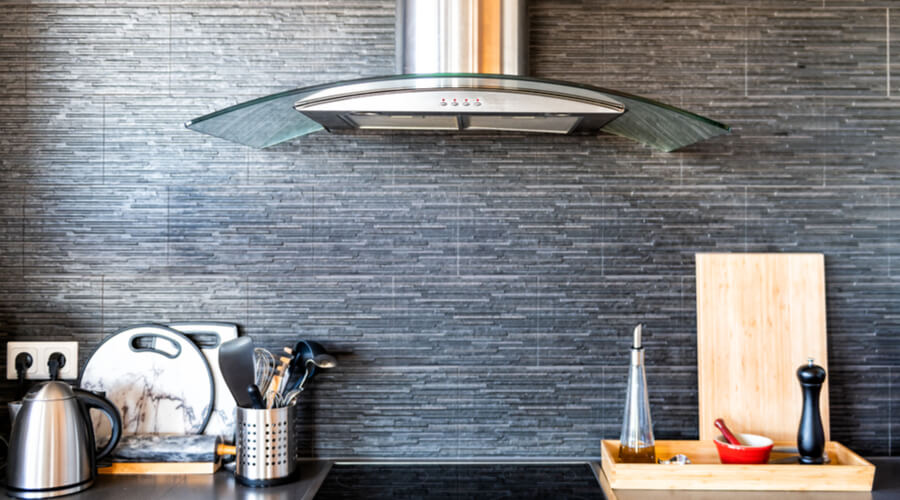 3. Enhanced Ventilation
Ventilation systems within kitchens are of great importance, in terms of keeping the environment clean and healthy. Adequate air ventilation is a necessity in order to break down carbon monoxide and other harmful toxins released by appliances, ensuring that the combustion process is complete.
As well as having a good extractor hood in place, there are other ways to enhance air ventilation to reduce your impact on the environment. Kitchn has some great ideas to improve ventilation, for those who don't have a hood, or are simply wanting to improve the air quality in their kitchen.
4. Use Re-Purposed Items
The idea of buying vintage items and re-purposing old pieces has become so fashionable in recent years, which is great as it is incredibly eco-friendly. Repurposing old items reduces the amount of waste tipped into landfills and decreases the need for the production of new, potentially toxic materials.
It may not be entirely your cup of tea, but it's surprising how good, not to mention, environmentally friendly re-purposing old items can look. We're not suggesting you visit your local tip for battered old kitchen cabinets, but rather think of ways you can re-use furniture, or buy pre-loved pieces to add to your space. If you have space for an island, for example, take a look at these unique upcycled kitchen island ideas from The Shabby Creek Cottage; we love the yellow metal industrial table!
5. Improve Insulation
It's a fact that good insulation conserves energy and in turn helps the environment, which is why we should look to improve insulation throughout our entire home. Your kitchen is a great place to start!
If you are renovating and making significant changes, why not look into insulating your walls further or adding underfloor heating to reduce the amount of heat loss? Improving insulation generally involves looking at the walls, floors, windows, airtightness and roofing, so it's worth taking the time to look at every area to make your kitchen insulation as efficient as possible. As stated by Sustainable Build, insulation is a key component to sustainable building design. Take a look at their guide to the best materials to use when considering insulation and your effects on the environment.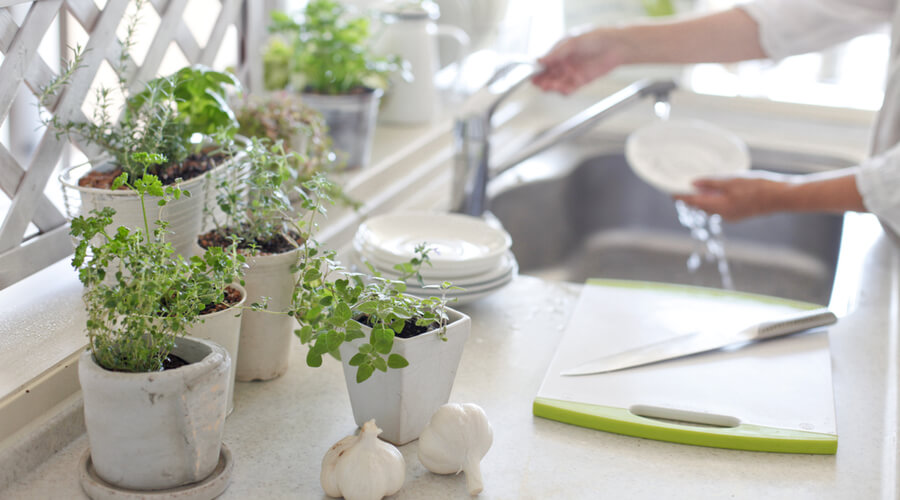 6. Use Potted Plants
Moving onto a slightly more decorative idea, the introduction of plants into your kitchen will not only enhance the design but create a much more sustainable and eco-friendly space. Houseplants not only have the ability to clean the air but also help to rid pollution within your home and the environment.
As well as this, by growing your own herbs, for example, you'll introduce a sustainable source of ingredients for various recipes, while ensuring they are completely organic and eco-friendly. House Beautiful has a fantastic selection of indoor house planter ideas which can be easily incorporated into any kitchen design.
7. Plastic Free Storage & Utensils
By replacing plastic throughout your kitchen, you'll be helping the environment immensely while creating a sleek, contemporary look. Plastic pollution is a massive threat to the environment, so it makes sense to look at every way in which we can eradicate its use. Look around your kitchen and count the number of plastic accessories, storage items and utensils you have – we're willing to bet it's more than you had anticipated. In order to cut down on these things, take a look at some alternatives you can begin to use, to make your kitchen as eco-friendly as possible:
Wooden Chopping Boards – You can find these everywhere! They look great and are better for the environment. They may be a little more expensive but are much more sustainable. We love this range from Farrar & Tanner.
Glass Storage Jars – As a fully recyclable, resource efficient material, glass is always a great alternative to plastic. These glass jars from Displaysense would look great on wooden shelves or countertops, filled with pasta, biscuits or herbs.
Stainless Steel Food Storage – Stainless steel is beginning to play an important role in terms of sustainable design, due to its high durability and environmentally friendly properties. We think you should chuck away those discoloured, old plastic tupperware boxes and replace them with these chic little stainless steel numbers from A Slice Of Green!
We regularly have customers wanting to achieve a clean and modern look, and in recent years have fitted a huge number of white kitchens in Milton Keynes in particular, with the aim to do this. Our team of designers always recommend accessorising white and modern kitchens with glass or wood over plastic, as this helps to enhance their desired look and creates a much more sustainable space.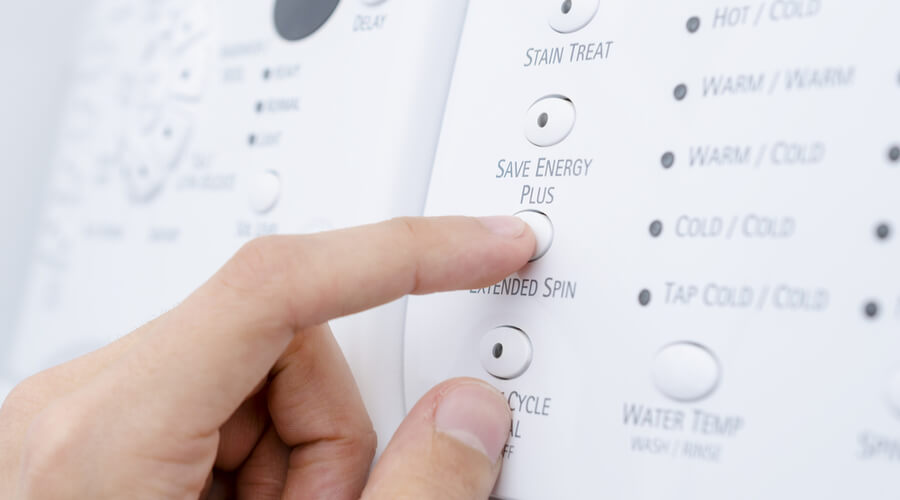 8. Energy Efficient Appliances
More and more of the modern kitchens in Towcester that we have been installing are incorporating a range of energy efficient appliances. Not only will these decrease your bills and save you lots of money, they really help the environment as your energy consumption will dramatically reduce.
Nowadays, energy efficient appliances can be found through most retailers, so you'll easily be able to have them installed in your kitchen. As well as producing some of the most reliable appliances on the market, Neff and Bosch have a range of energy efficient products to choose from, helping you to design your kitchen in the most sustainable way possible.
Design A Truly Sustainable Kitchen
There's no need to compromise on design and aesthetics when creating a sustainable space. The two can go hand in hand if you take a little time to get creative and think of ways to become more eco-friendly. Your kitchen is the perfect way to experiment with sustainable design and create a unique space for both your family and visitors to enjoy.